How to participate?
Decide whether you want to work on your own or in a team, be aware of the surprise theme and the diversifiers that will be announced on December 7, 2015; follow the rules, then start creating your own Pocket Code or Scratch game about "Alice in Wonderland".
How to learn coding?
If you don't have any experience in coding don't be afraid, it's easier as you might think! In the tutorials section we provide some great examples for beginners and lessons to learn programming. Furthermore there are huge communities behind Pocket Code and Scratch which provide examples on the web.
We also provide some special Alice-themed Tutorials for this #AliceGameJam!
Find the right materials for your game
To make it easier for you we provide some special media assets which you may use during the Game Jam. Follow the links and feel free to use these Looks and Backgrounds for your game!
If you want to support us and help others to learn coding take a look at our FAQ section and find further information on this here.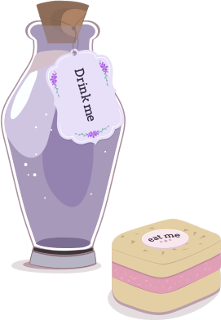 Submission
Submitting your game is easy!

:
For Pocket Code Users: After you created your game just upload it and add a description (tell us what your game is about). Please don't forget to add the hashtags #AliceGameJam #[Your Teams Name] (please adapt this tag to your actual Team-Name) to this description.
If you're not already logged in, do it on pocketcode.org and switch to the program you want to upload.

During the Jam there will be an additional button available ("Submit To Alice Game Jam").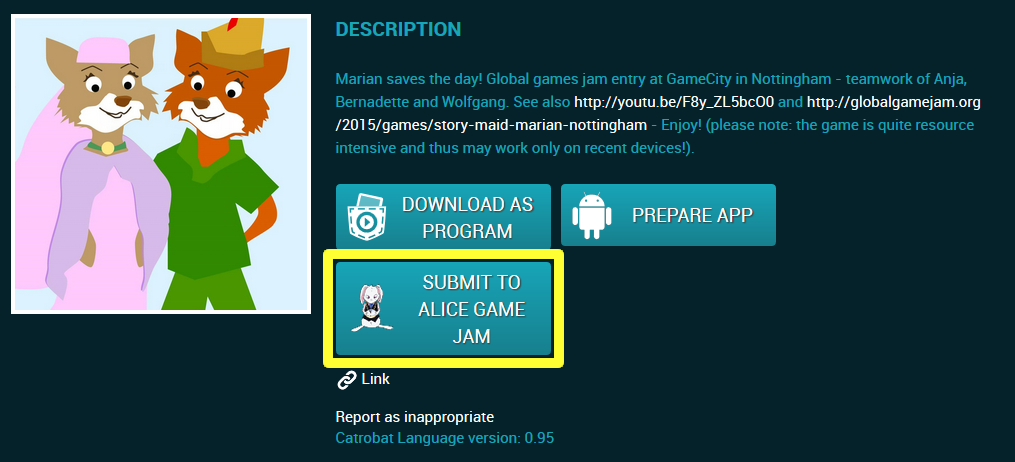 To submit your game please fill out the questionnaire that is part of the submission process. Then your program will be submitted and shown on our Wall of Fame!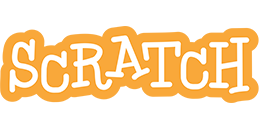 :
For Scratch Users: Please click here and fill out the questionnaire to be part of the Game Jam! All Games to "Alice in Wonderland" are shown in the special Wonderland-Studio of Scratch!